While the principles of good design often provide the foundation for a successful piece of furniture, what are the elements that make up a cohesive design family? Is it the form? The materials? The intended use? For Norwegian designers Anderssen & Voll — the duo behind Muuto's renowned Outline Sofa — it's the sum of all its parts.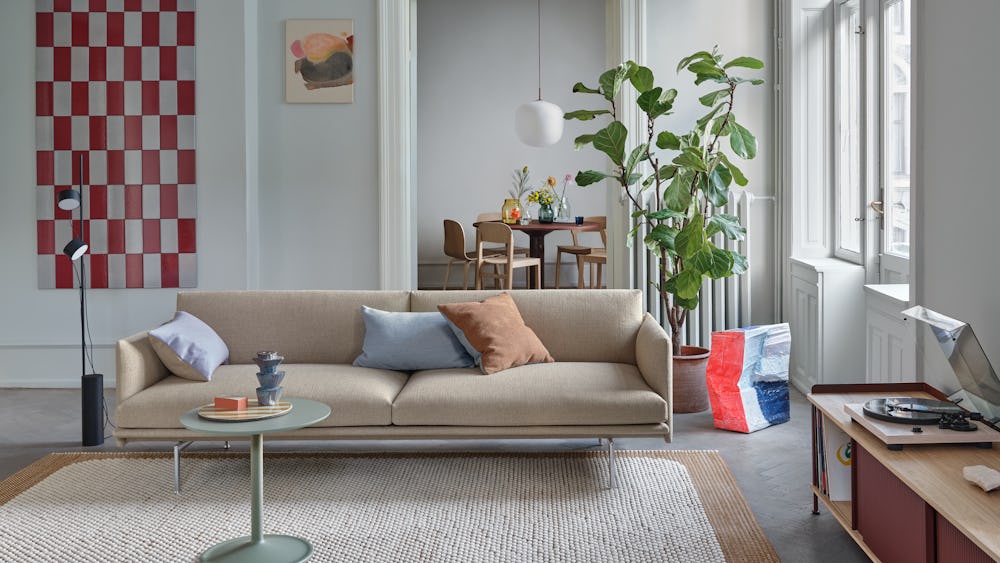 "We find that design families, in many ways, are similar to the families of humans, in the sense that they continuously evolve over time and particularly so when new members are born into them, adding new perspectives to their combined expression," says Espen Voll.

Case in point: Anderssen & Voll's Outline Family. An unfolding that followed their initial Outline Sofa, the collection is composed of pieces that have a strong ethos on their own but are further elevated when situated together to form the ambience of a room.
Outline Family finds its illustrious character through clean lines, superior comfort, and subtle hints towards architectural elements: "We sought to create an identity that had an elegant timelessness to it, making for an appearance that was distinctly refined while making little visual noise," notes Torbjørn Anderssen.

The duo identified a sentiment that could be translated into new typologies. On that, Voll says: "We started sketching around and discovered that the key elements of Outline and its design principles — slimming down proportions for an elegant look while having a high level of comfort — could be applied to more forms."
A fresh perspective on classic Scandinavian sofas from the 1960s, the Outline Sofa became the blueprint for the rest of the family. First came the Outline Chair: "It was a natural extension of the Outline Sofa, working to create a chair that would pair seamlessly with the sofa while having a strong individual identity that allowed for it to be used on its own as a highlighted armchair or small sofa," adds Anderssen.

After the sofa and chair were brought to life, the Oslo-based designers investigated the constantly evolving lifestyle of people who live in cities, and how they are living in increasingly smaller spaces. "It prompted us to translate the language of Outline into a more compact design: The Studio pieces are reduced yet elegant iterations that echo the nature of Outline," explains Voll.
Since then, an array of new typologies has been interpreted through the narrative they initially created: The Outline Corner Sectional brings grand comfort to the heart of any home; the Outline Ottoman acts as a both complementary seat and footrest for the other members of the family; and the Outline Daybed, with its wide, flat cushions, provides a comfortable place to sit or stretch out.

"In essence," says Anderssen, "the Outline Family is characterized by its clean and elegant outside, presented in combination with a deep seat and soft cushioning, allowing for it to complement its surroundings while being something that you'd spend hours on end in."