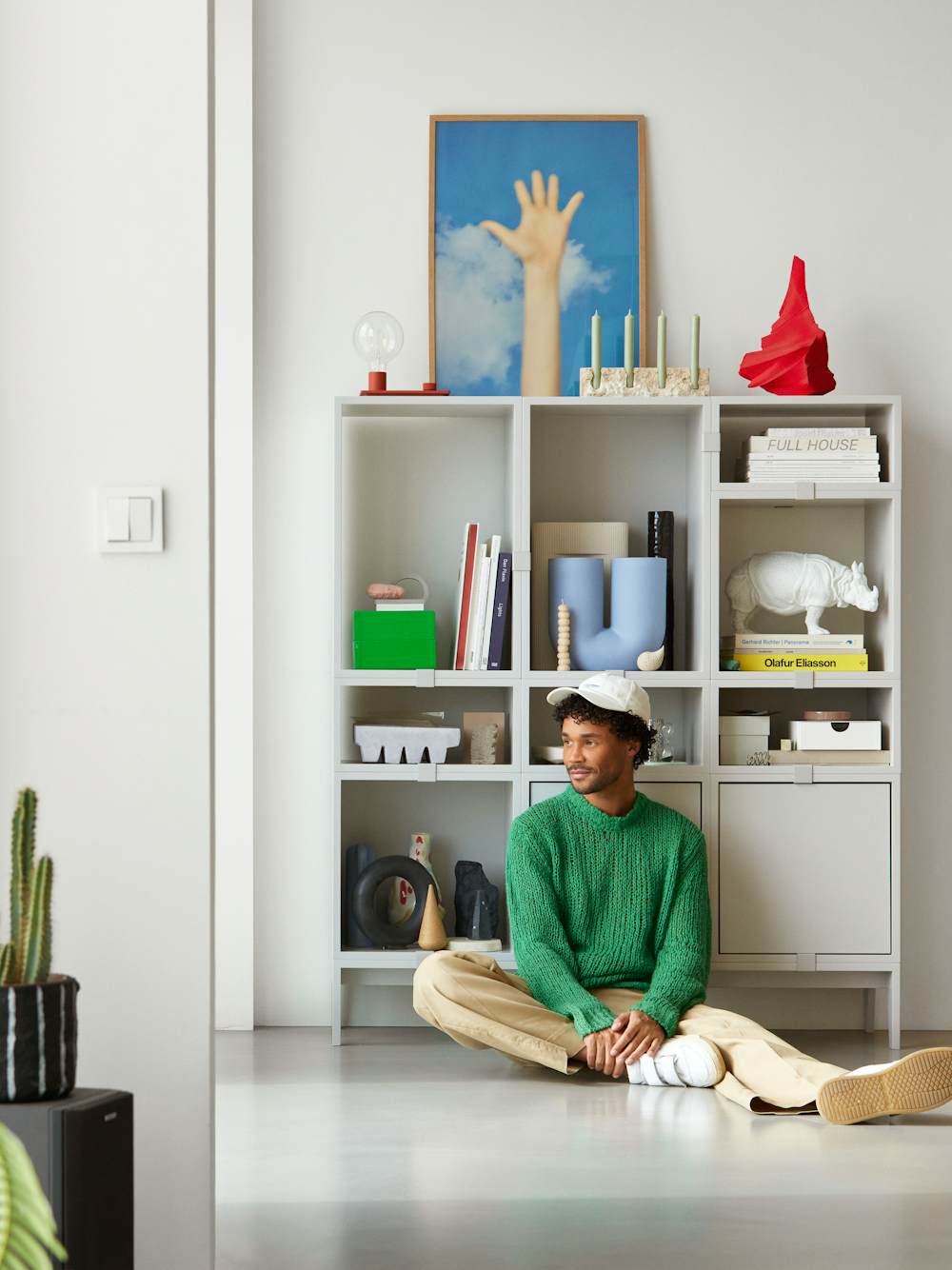 MARVIN UNGER
living with stacked
Introducing Living with Stacked—a series where we visit friends of Muuto in their homes to explore the interchangeable design of the Stacked Storage System and how it can re-configure with the ebb and flow of life.
In their bright and spacious Munich apartment, stylist Marvin Unger and his partner Stephan make a study out of living with their whimsical collection of design pieces and found objects, creating their very own expression.

Marvin offsets the sleek modern architecture with playful pieces of furniture and colorful objects organized in the flexible grid of the Stacked Storage System.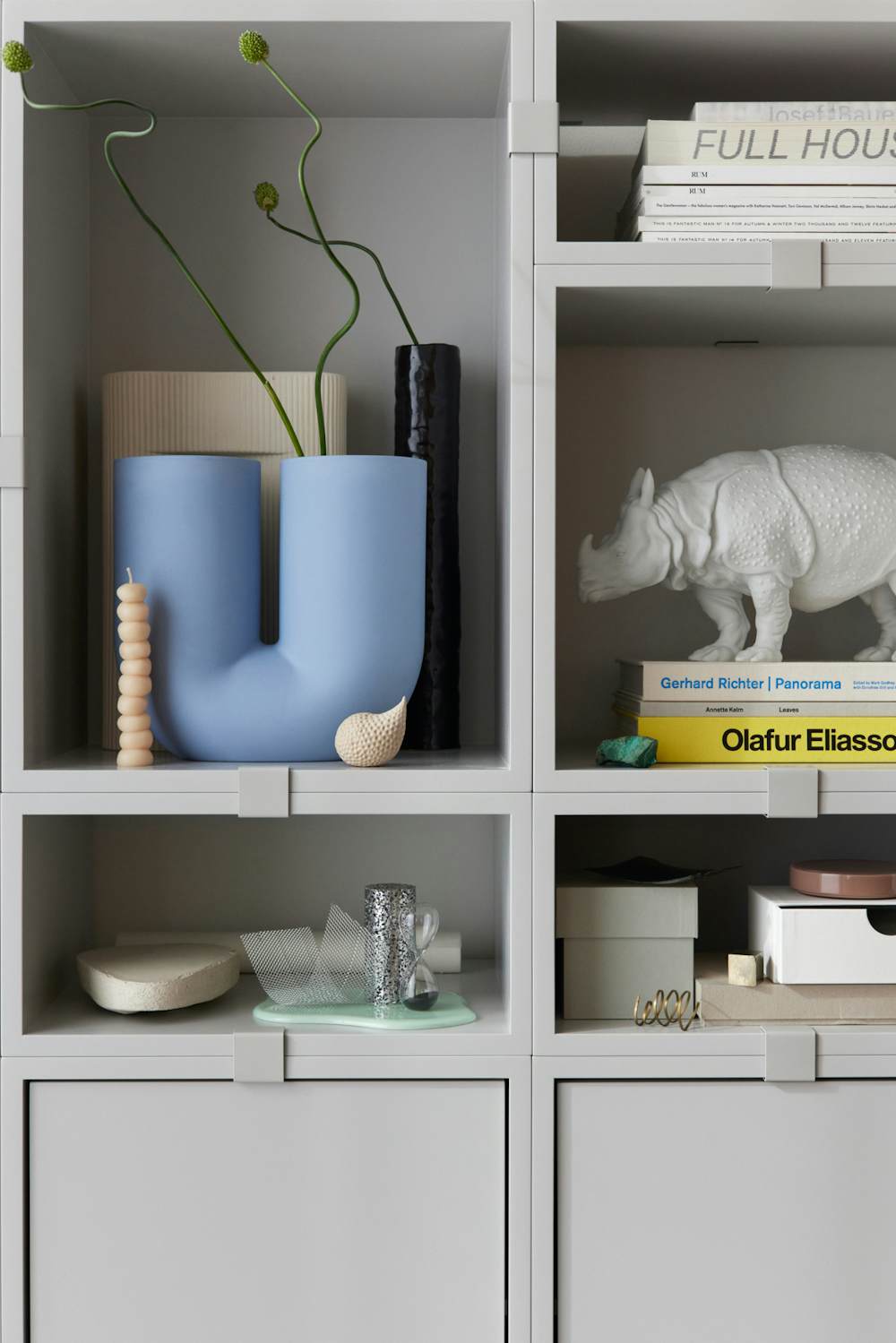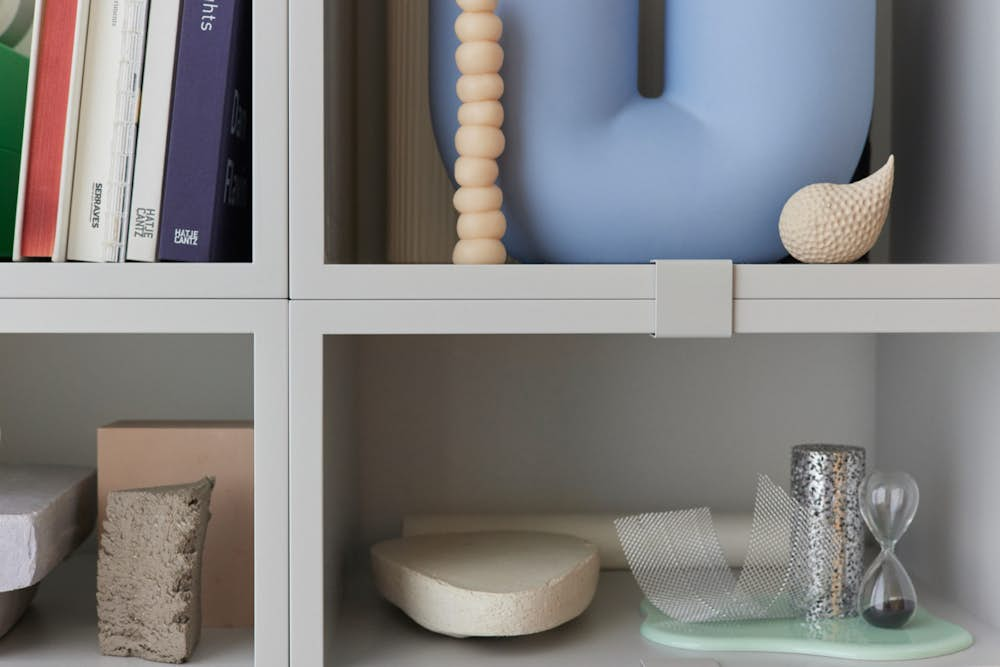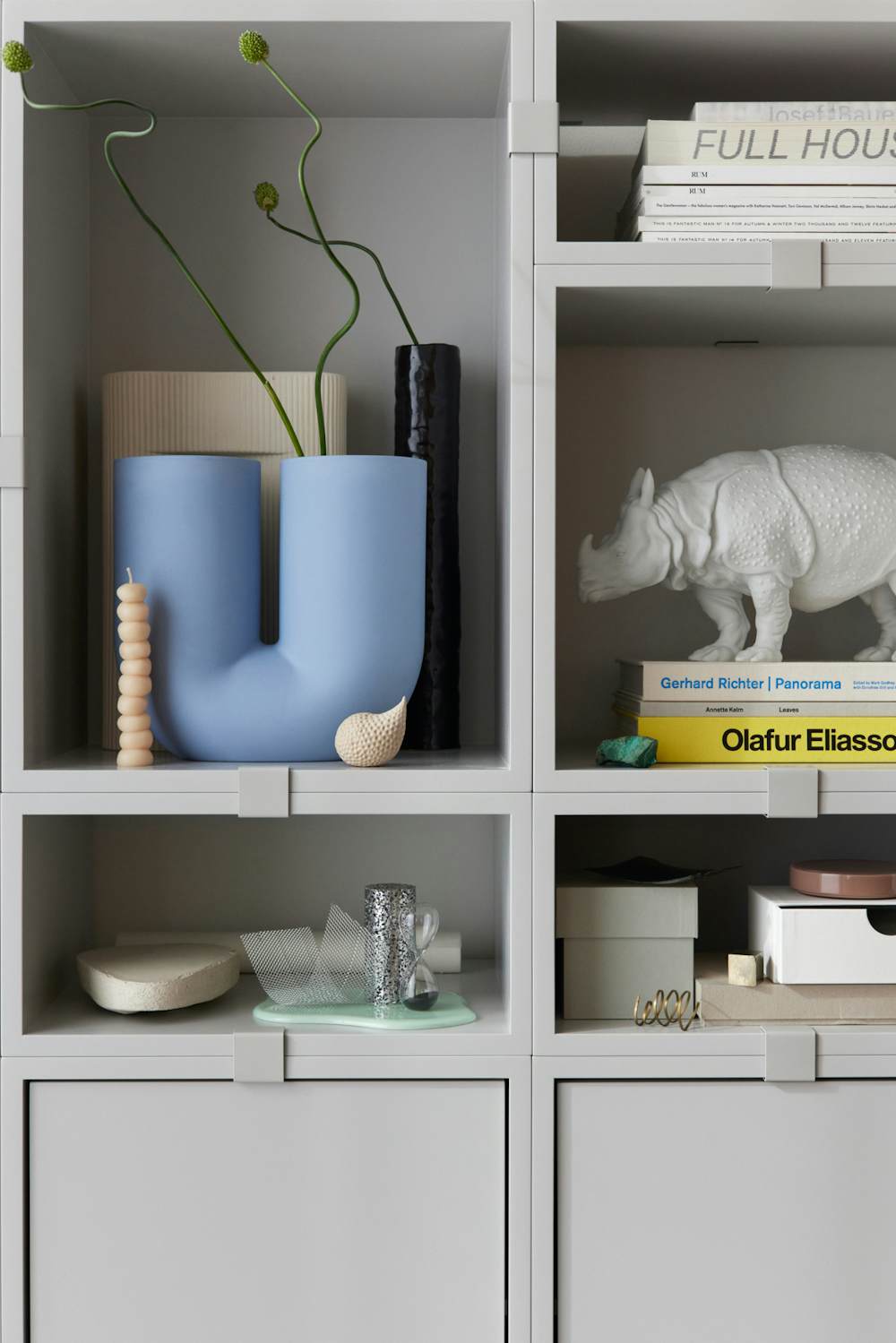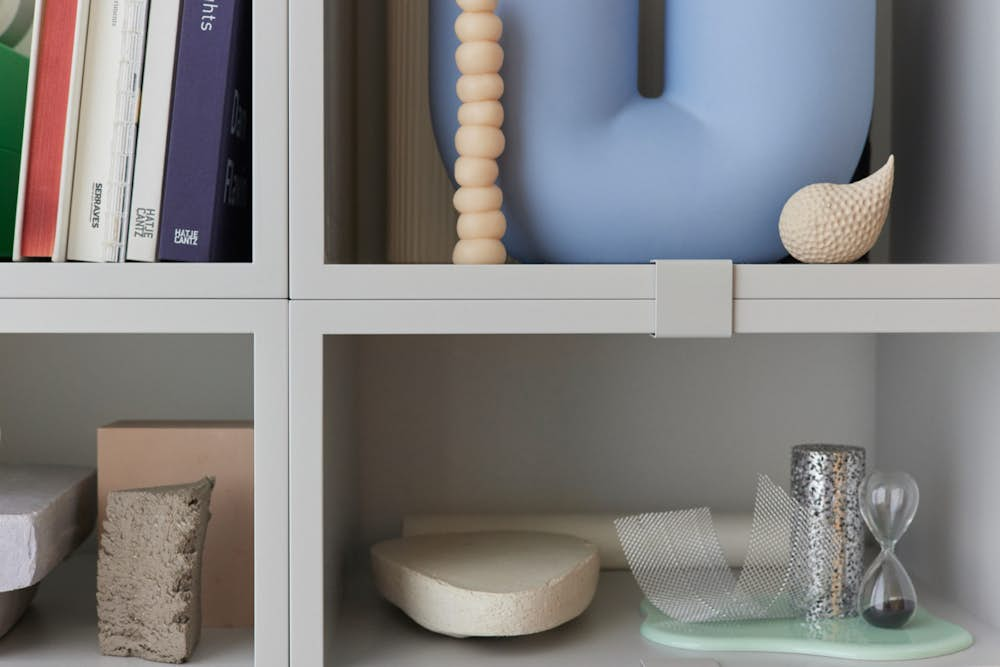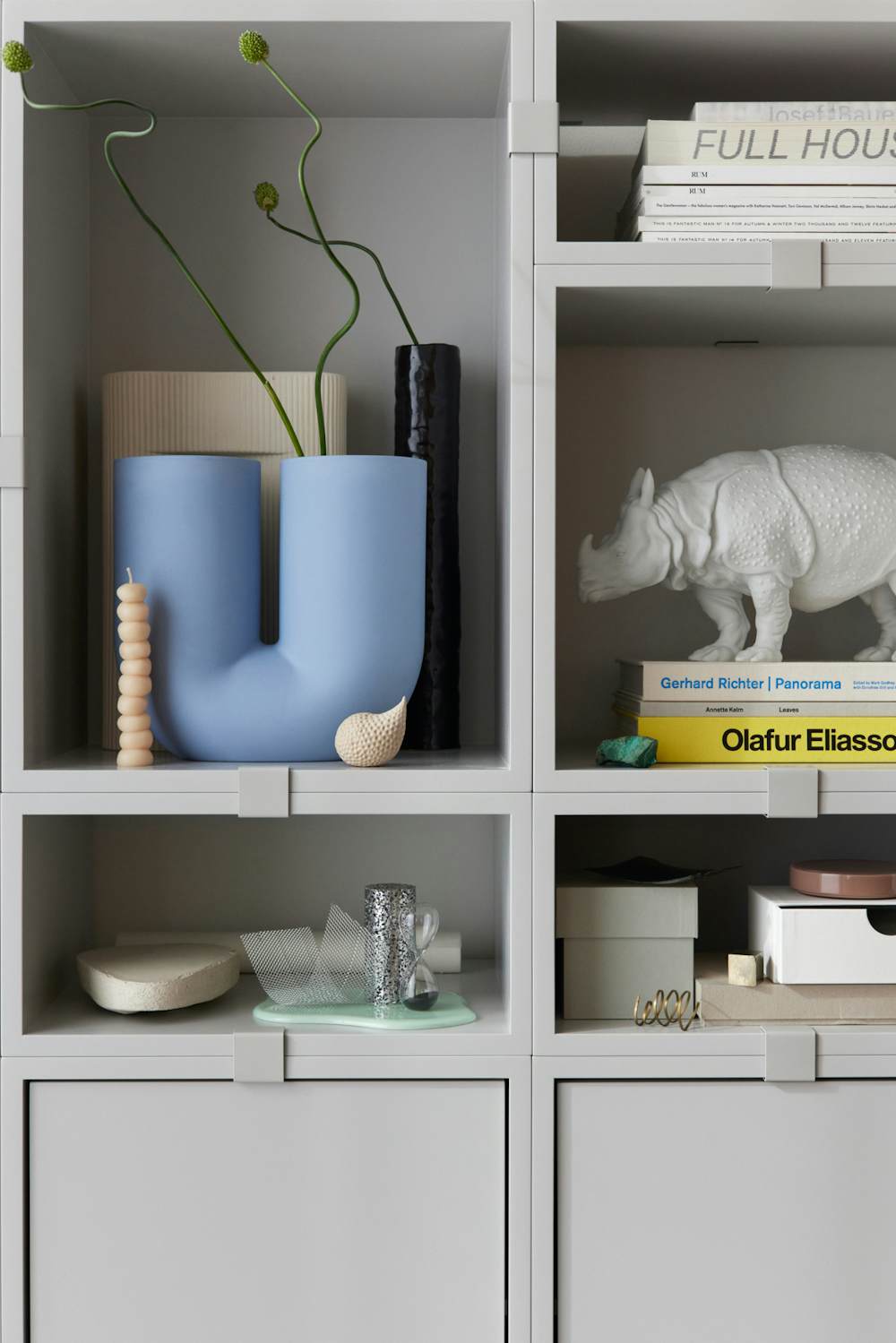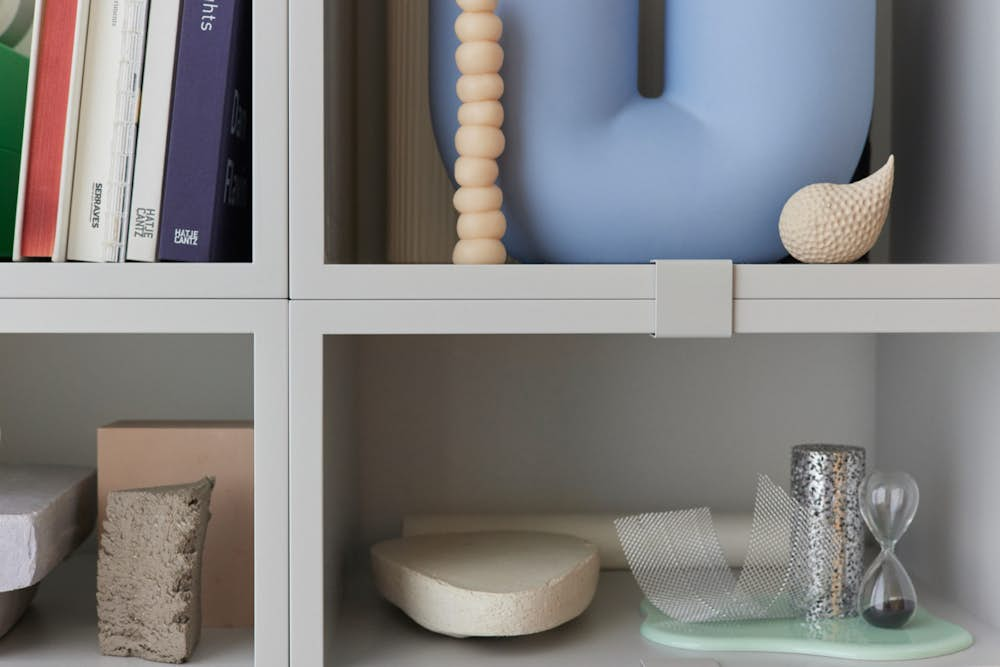 Five years ago, Marvin Unger and his partner Stephan fell in love with a recently developed 80 square meter apartment in Munich. Its open layout and immense floor-to-ceiling windows facing south—filling the rooms with warm light even in winter—wowed them. Half a decade on, it has become much more than a home, equally a studio for Marvin's personal work spanning fashion, interior, still life and set design.

"I am a freelance stylist, content creator and sometimes a photographer, and our home is also the base for my work—I use it as a studio for my personal photography and as a place to collect, display and store art, objects, props and other pieces that are close to my heart."

Describing his interior style as 'playful minimalism', Marvin has a penchant for intertwining contemporary design classics and artworks with found objects such as stones, weathered wood and cast concrete pieces. Together, these create a rich tapestry of memories and references that embody Marvin's curious, uninhibited exploration of color, form, material and storytelling.

"I love how these simple and raw objects add texture and depth to a home, something that especially newly built and modern spaces can benefit from, creating a bit of coziness and playfulness."

A collection of objects spanning hundreds of items—books, candles, ceramics, sculptures and material samples—needs a home of its own and the couple's choice fell on Muuto's Stacked Storage System. Its subtle, light gray color complements the bright space, highlighting the colorful items it houses.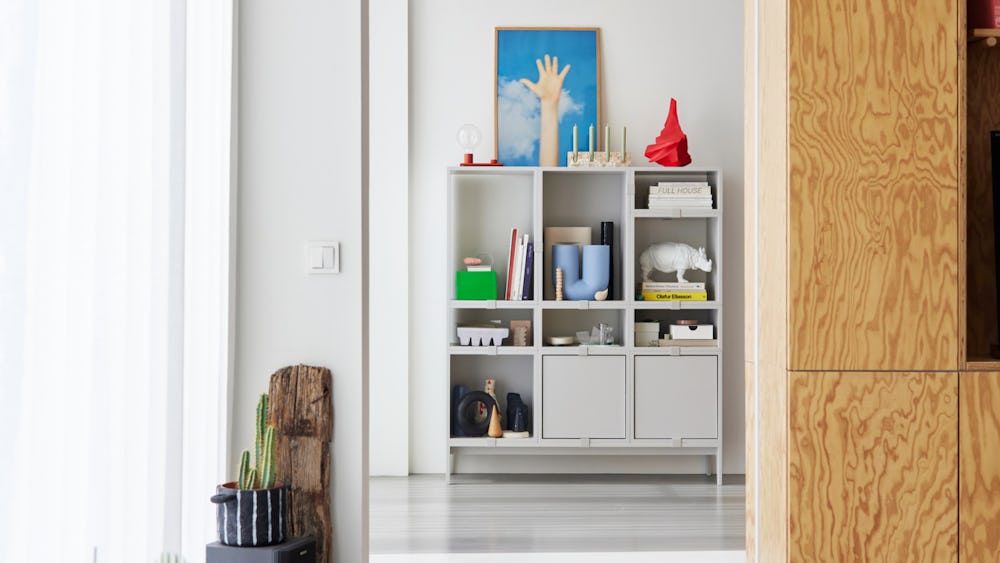 "when i planned the configuration i really wanted to create something that was equally display and storage. i like the playful grid and how easily it adapts to all kinds of objects, equally befitting of a book as a tall vase."


Upon moving in, the couple had already planned several built-in cabinets, but still wanted to strike a good balance between open and closed storage. Stacked, with its broad range of modules – with and without doors – 'perfectly serves both needs' according to Marvin, adding that the system is the ideal complement to their existing cabinets, all while bringing something fresh to the home.

— For now, I think we've found the perfect configuration for our space and needs. I have been considering expanding to a creative studio space. I do not know when, but I know that I have a beautiful and versatile Stacked Storage System that can adapt to any room or situation. I could easily add a few modules to the system creating a higher shelf to add more display space or add another base and split up the existing modules to make a long sideboard.
"These are objects of joy, pieces I consider too precious to hide away in a dark basement. I prefer to live with them – to curate, display and rearrange them in time. And I love how Stacked is the perfect stage for that."